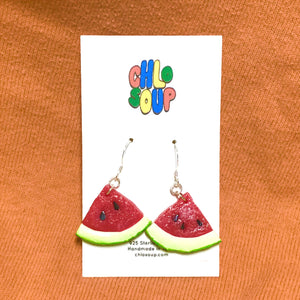 We have 0 in stock.
Handmade watermelon slice earrings! Each watermelon has randomly placed seeds on both sides, and has a hand painted rind!
Weight and size may vary slightly
WEIGHT: 3 grams
WIDTH: 2 cm
LENGTH: 2 cm
THICKNESS: 0.25 cm
[Visual Description: Two watermelon slice earrings. The slices are flat and are shaped like an equilateral triangle, not a wedge or a thin slice shape. Each watermelon has 2-3 black seeds placed randomly on them. The rind is thin and hand-painted with dark green lines. The earrings are on a white earring card with the Chlosoup logo on the top of the card. The background is a salmon-colored fabric.]
Sweet Goodness
I got these because my Mom's favorite fruit is watermelon. I showed them to her and she loved them so much! These are some of my cutest pair yet!