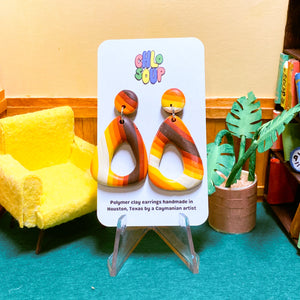 We have 0 in stock.
Handmade warm stripe slab earrings made with polymer clay! The back of these earrings are dark brown.
Weight and size may vary slightly
WEIGHT: 3.4 grams
WIDTH: 2.5 cm
HEIGHT: 4.5 cm
THICKNESS: 0.5 cm
[Visual description: Two hollow rounded triangle earrings. The earrings are patterned with wavy stripes in varying colors. The stripe colors are off-white, yellow, orange, dark orange, dark red, and dark brown. The earrings are on a white earring card with the Chlosoup logo on the top of the card. The background is a living room scene with light yellow walls with wood paneling, green carpet, a yellow armchair, a bookcase, and a potted monstera plant.]
Love them!!
I ordered two pairs of earrings and they came swiftly and in cute packaging :) The earrings themselves feel durable and high quality. I will be buying from here again <3