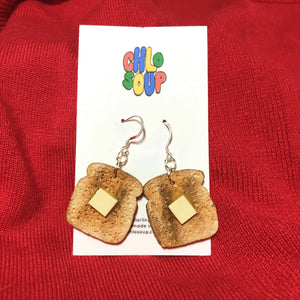 We have 0 in stock.
Handmade toast earrings, made with polymer clay. Each piece of toast is accented with a melting pad of butter. Gluten free.
Both sides of these toast earrings are textured and shaded!
Weight and size may vary slightly
WEIGHT: 2 grams
WIDTH: 1 inch
LENGTH: 1 inch
THICKNESS: 0.25 inches
[Visual Description: Two miniature toasts, with two shaded lines on the front to mimic the burn lines of a toaster. Towards the top there is a small piece of butter, and the outside edges are painted brown to be the crust. The earrings are covered in a glossy finish. The earrings are on a white earring card with the Chlosoup logo on the top of the card. The background is a red fabric.]
Incredibly detailed!!!
They look so real and came super fast!! I've received tons of compliments and they're just so dang cute!!