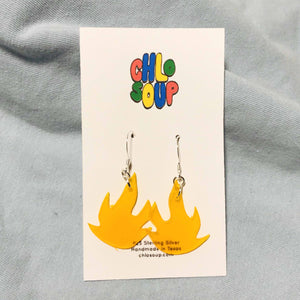 We have 0 in stock.
DISCLAIMER: POINTS ON THE FLAMES ARE VERY POINTY AND CAN BE A BIT SHARP!
Handmade tiny translucent flame earrings! These are the mini version of our big translucent flame earrings! Made with polymer clay.
Weight and size may vary slightly
WEIGHT: 1 gram
WIDTH: 0.75 inches
LENGTH: 1 inch
THICKNESS: 0.07 inches
[Visual Description: Two tiny translucent orange flame earrings. The earrings are made only of translucent orange clay, and are round at the bottom with the flames at the top. The earrings are on a white earring card with the Chlosoup logo on the top of the card. The background is a light blue fabric.]
So cute
I love these! They are absolutely adorable. Not too big, not too small either. Perfect for any time I want a little extra flavor in my accessories for that day!