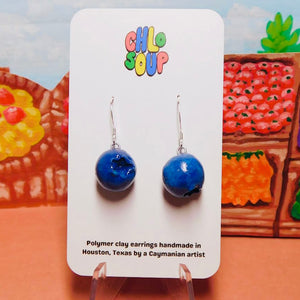 We have 0 in stock.
Handmade blueberry earrings, made with polymer clay! 
Weight and size may vary slightly
WEIGHT: 2 grams
WIDTH: 1.5 cm
HEIGHT: 1.5 cm
THICKNESS: 1.5 cm
[Visual description: Two pairs of realistic clay blueberry earrings. The earrings are on a white earring card with the Chlosoup logo on the top of the card. The background is a farmers market scene.]
Excellent product and excellent customer service!
I bought the single blueberry earrings and they look amazing, exactly like fresh blue berries! There was a hiccup in the shipping process (all the carriers end) but I reached out and was provided some excellent customer service every step of the way to ensure I received the earrings I bought. (: Would 100% recommend to anyone looking for really beautiful earrings and looking to support a small business. I am definitely going to be a repeat customer!