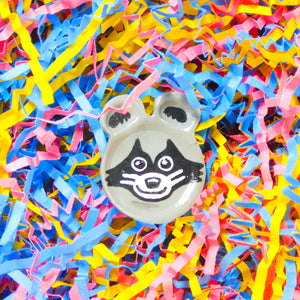 We have 0 in stock.
Make sure you leave your trashcans open for your scavenging neighbor the Raccoon Zoo Pal! These plates are handmade from polymer clay and are hand-painted and covered in glaze! Because these plates are sanded and covered in glaze, the paint is stubborn in it's place, but be careful not to scratch the surface as this can scratch the glaze off and make the paint more vulnerable to being scratched off as well! Real Zoo Pal plates are white on the back, but ours are the same color as the front on the back!
These plates can be purchased as a pin or a magnet, at half the price of a pair of earrings because, well, it's essentially half an earring!
MAGNETS
Each magnet is stuck on with strong adhesive, and have been tested on our little fridge at home to make sure the magnet is on strong, and they are! Whether it's to adorn your fridge or whiteboard, these little magnets are a fun addition to any space!
[Visual Description: Two miniature paper plate earrings. The plates have two smaller compartments on the top. Each plate has scoring around the edges to mimic the folds of a paper plate. These plates have the two smaller compartments on the top, and the plates are grey. In the two smaller compartments are black fluffy ears, and on the bottom is a raccoon's face smiling. The raccoon has a black fluffy mask and a white mouth with two whiskers on each side of the mouth. The earrings are coated in a glossy seal. The earrings are on a white Chlosoup earring card and the background is pink, blue, and yellow paper shred.]
arrived as cute as pictured
Cute design, good quality, quick shipping