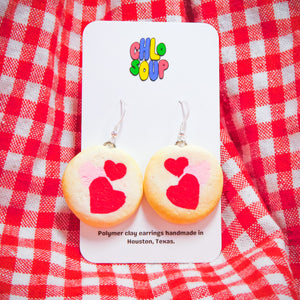 We have 0 in stock.
Handmade miniature Pillsbury inspired Valentine's Day sugar cookie earrings. Each earring is made from a cookie cane and is textured to look like a cookie. Each cookie is shaded on the edges to look perfectly baked. These earrings are not textured on the bottom side, and are sealed with a satin glaze.
Weight and size may vary slightly
WEIGHT: 4 grams
WIDTH: 1 inch
LENGTH: 1 inch
THICKNESS: 0.25 inches
[Visual Description: Two miniature Pillsbury inspired sugar cookies. The cookies are flat and have a 3 hearts in the middle. The first heart, which is the largest, is red. Behind the red heart is a light pink heart that is being covered up slightly by the first red heart. Behind both of those hearts is another small red heart which is almost right above the original largest red heart. The hearts are staggered in a sideways V shape in the middle of the cookie. The earrings are on a white Chlosoup earring card. The background is a red gingham fabric.]
Wonderful as always!
These earrings are great quality like all Chlosoup products! They remind me of making cookies with my grandma as a kid because she would always buy the holiday sugar cookies for us to make together <3
Adorable and well made!
Love all the earrings you make! My most recent purchase was the heart cookie pair and they are so adorable and realistic! Will definitely be ordering again