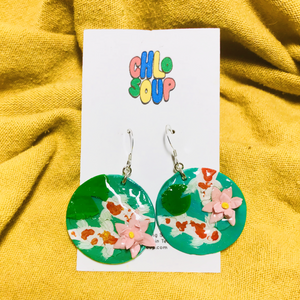 We have 0 in stock.
Handmade and hand painted koi fish pond earrings! Each earring is unique and will not exactly match the other earring it arrives with. These earrings are made with polymer clay, and 2 layers of resin to look like water. Each earring comes with one lily pad and one 3D lotus flower.
Weight and size may vary slightly
WEIGHT: 3 grams
WIDTH: 1 inches
LENGTH: 1 inches
THICKNESS: 0.5 inches
[Visual Description: Two round blue-green circles. Each circle has two orange and white koi fish on them. The koi fish and blue-green circles are covered in a layer of resin to mimic water. On top of the resin is a lily pad and a lotus flower. The size and shape of the lily pads is different on each pair, and the lotus flowers are the same size but in a different place. Each earring has a different layout. The lotus flower and lily pad are covered in a layer of resin. The earrings are on a white earring card with the Chlosoup logo on the top of the card. The background is a yellow fabric.]
Very Cool
I love the design of these, I've never seen anything like them! They aren't heavy and they don't tend to flip over like a lot of large earrings tend to.
Very cute
It looks exactly like photo. Cute and surprisingly light!
perfect!!
these earrings are so beautiful and have so much detail in them! The picture can not capture how truly beautiful they are!