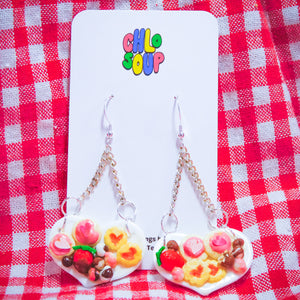 We have 0 in stock.
Handmade Valentine's Day charcuterie board earrings! The heart shaped platters these earrings come on are not handmade by the shop, however each little piece is! Each treat is individually handmade and placed onto these little heart shaped platters! These platters are plain on the back and are held up by a chain and two jump rings on each side so they have a horizontal orientation! 
Weight and size may vary slightly
WEIGHT: 3.1 grams
WIDTH: 3.5 cm
LENGTH: 2.5 cm
THICKNESS: 0.75 cm
[Visual Description: Two miniature heart shaped platters covered in Valentine's Day treats. The heart shaped platters are horizontal and have two jump rings on either side of the heart, with a chain between them that connects to the ear wire they hang from. The heart shaped platters are white and are covered in miniature sugar cookies with pink frosting and sprinkles, miniature cookies with a heart shaped jam center, strawberries (both chocolate covered and normal) and little chocolate bon bons, some dark chocolate and some white with frosting on top. The earrings are on a white Chlosoup earring card. The background is a red gingham fabric.]
Perfect vday pair!
These make me wanna assemble a cute vday charcuterie board but instead of doing all that work you can just wear these lol. They're so detailed and comfy, I wore them all day long and love how they look!
Horizontal C(heart)cuterie Board Earrings