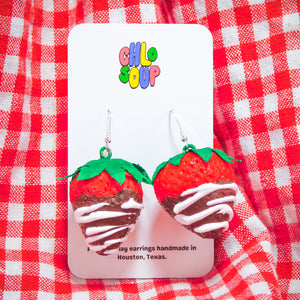 We have 0 in stock.
DISCLAIMER: THIS CURRENT BATCH OF SQUISHY STRAWBERRIES HAVE A MORE FIRM FOAM! THEY ARE STILL SQUISHABLE OF COURSE BUT ARE MADE WITH A FIRMER FOAM MIXTURE!
Yes you read that right! Squishy strawberry earrings! These earrings are handmade with foam and are made for squishing! They're incredibly light for their size and are super fun for fidgeting and showing your love for these delicious Valentine's Day treats. These earrings come in two sizes, so you can get your squishy strawberry fix even if larger earrings aren't for you!
The earrings pictured are size small.
Weight and size may vary slightly
NORMAL
WEIGHT: 5 grams
WIDTH: 4 cm
HEIGHT: 5 cm
THICKNESS: 4 cm
SMALL
WEIGHT: 3.6 grams
WIDTH: 4 cm
HEIGHT: 4 cm
THICKNESS: 3 cm
[Visual Description: Two life-sized foam strawberries. The strawberries are a bright red with green fabric on top as the leaves. Each strawberry is coated with a brown fabric paint to mimic the look of a chocolate dipped strawberry, with white chocolate drizzles on top. The earrings are on a white Chlosoup earring card. The background is a red gingham fabric.]