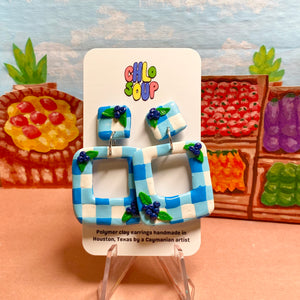 We have 0 in stock.
Handmade blueberry gingham slab earrings, made with polymer clay!
Weight and size may vary slightly
WEIGHT: 2 grams
WIDTH: 3 cm
HEIGHT: 5 cm
THICKNESS: 0.3 cm
[Visual description: Two pairs of blueberry gingham slab earrings. The earrings are stud-dangles, square-shaped with a smaller square taken out of the middle. The stuf is attached to the smaller square above the larger. The earrings have a blue gingham pattern, with mini blueberry bunches and leaves on alternating corners of the square. The earrings are on a white earring card with the Chlosoup logo on the top of the card. The background is a farmers market scene.]
blueBERRY AMAZING
I love these earrings!! Very detailed and super light!!