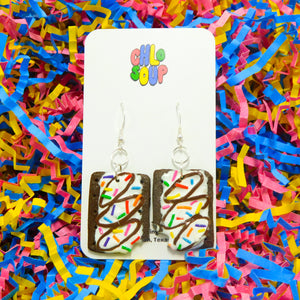 We have 0 in stock.
These earrings are handmade with polymer clay and filled with a delicious vanilla frosting! Each toasted pastry is frosted and covered in rainbow sprinkles. The back of these frosted toaster pastries are flat.

Weight and size may vary slightly
WEIGHT: 2 grams
WIDTH: 1 inch
LENGTH: 1 inch
THICKNESS: 0.25 inches
[Visual Description: Two miniature frosted toaster pastry earrings. Each earring is one single chocolate toaster pastry with white and brown frosting and tiny rainbow sprinkles. The white frosting covers the majority of the pastry, while the brown chocolate frosting is in swirls on top of the white frosting. Each toaster pastry has a bite taken out of the bottom right side, exposing the vanilla frosting inside. The earrings are coated in a glossy seal. The earrings are on a white Chlosoup earring card and the background is a pink, blue, and yellow paper shred.]
thankyou!
this is my second order from this shop, and i am still so obsessed with everything she creates. i especially appreciate the clip on options!!
Fudgy Icecream Tot Part Earrings
They look so good! It's hard not to bite into them myself. Thank you!