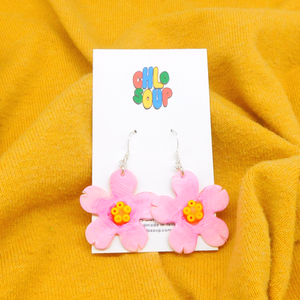 We have 0 in stock.
Handmade polymer clay cherry blossom earrings! These earrings a light, cute, and fun!
Weight and size may vary slightly
WEIGHT: 1.7 grams
WIDTH: 3.2 cm
LENGTH: 3.2 cm
THICKNESS: 0.4 cm
[Visual Description: Two light pink cherry blossoms. The cherry blossoms have five textured petals and fade into a darker pink towards the center of the flowers. In the middle of the cherry blossom are five small yellow balls, meant to be the anthers of the flower. The earrings are on a white earring card with the Chlosoup logo on the top of the card. The background is a yellow fabric.]
Super Cute
I love these earrings because they have such a sweet and Spring vibe to them. They brighten up any outfit you pair them with.