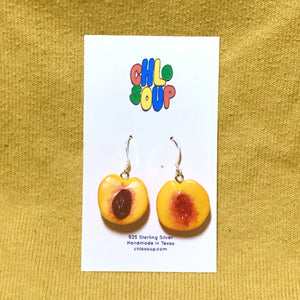 We have 0 in stock.
Handmade peach half earrings! The back side is a gradient of peaches, yellows, oranges and reds, and is a satin finish to mimic a real peach's skin! A perfect size for anyone looking for fun fruity earrings that are a bit more wearable.
Weight and size may vary slightly
WEIGHT: 4 grams
WIDTH: 0.75 inches
LENGTH: 0.75 inches
THICKNESS: 0.5 inches
[Visual description: Miniature peaches cut in half. The peaches are made with a yellow translucent clay to look like the inside of a real peach. One peach half has a put inside while the other does not. The pit is a dark brown and around the pit is red. The outside of the peaches is a gradient of peaches, yellows, oranges and reds, with a satin finish to mimic the skin of a real peach. The inside of the peach halves are very glossy so they look wet. The earrings are on a white earring card with the Chlosoup logo on the top of the card. The background is a yellow fabric.]
Loved my earrings!
I bought these half peaches and a pair of orange slices. They arrived after a few weeks in beautiful condition. I received an email mid-delivery regarding some confusion at the post office and everything was carefully addressed/made clear. I was updated every step of the way.
I was worried the earrings would be too heavy because I have sensitive ears, so I made sure I bought smaller sized earrings. FYI: everything was super lightweight, and I could've easily sized up if I'd wanted to. Luckily, the small earrings are just as cute as the larger earrings.
Fantastic, fun earrings & superb customer service. Love! Thank you!
so cute
super detailed, lightweight, and very cute. i love them!!
So cute!
These earrings are so cute that I want to show them off to all of my family. They are so well done they look like real little peaches
Jut peachy
This pair was in the first (of many) orders I've made here at chlosoup.com. It just so happened to be peach season, and i was astounded at how real these looked! They seriously look like a real peach that was just shrunk down