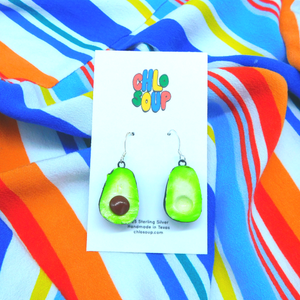 We have 0 in stock.
Handmade and hand painted avocado earrings! These are a great size for anyone who loves fun earrings but doesn't want anything too large!
Weight and size may vary slightly
WEIGHT: 2.1 grams
WIDTH: 1 cm
HEIGHT: 2 cm
THICKNESS: 1 cm
[Visual description: Two miniature avocados. The avocados are cut in half - one half contains the pit and the other half is empty, and each half being their own earring. The earrings are about 2 centimeters in height, and about a centimeter in thickness. The earrings are on a white earring card with the Chlosoup logo on the top of the card. The background is a multicolored striped fabric.]
Beautiful work!
I was in love with everything from packaging to product! I love my earrings so much and can't wait own more pairs!
adorable
these earrings are super cute & great quality. solid but not heavy. they also arrived super fast
Super cute!
They are adorable and I got so many compliments wearing them! They're also a lot more light weight than I expected. I don't typically wear jewelry so even normal hoops can be a lot for my ears, but these I didn't have any issues with. Love them so much!